Woke up this morning still thinking about the thrilling White Devil that I saw at the RSC last night. What I loved about Maria Aberg's production was (1) it was visual, aural, multimedial, spectacular, (2) it was SMART about the text without being slavish, and (3) it was about NOW. It was also one of the first RSC shows I've seen to use video projections in a genuinely interesting, integrated, and artistic way. I was sitting to stage left last night so I couldn't always make out the washes of image and color that would intermittently stretch over the stage, but I could see enough to realize that they were augurs of sorts of what was to come. In their own abstracted and beautiful way they seemed to represent Flamineo's claim that 'Man may his fate forsee, but not prevent'.
The production had a strong sense of mise-en-scène and created several visual tableaus that echoed and perhaps even cited other recent filmic phenomena, among them Paolo Sorrentino's La Grande Bellezza, the infamous 'Blurred Lines' video, The Sopranos, and Luhrmann's Romeo and Juliet. I can't do a full review but I wanted to at least try to map out a few of these visual references with some of the pictures currently available from the production.
(1) 'ORA PRO NOBIS' = 'PRAY FOR US' (#thicke)
(2) The Cardinal and La Grande Bellezza's Jep Gambaradella – the most powerful men in Rome? They both wear white trousers too.
And this is pretty much exactly what Francisco wears, though I can't find a picture:
But most important perhaps are are the opening party scenes, and especially the use of the hermetic white box behind plexiglass at the back of the stage, which reminded me very much of Jep's 65th:
Why is it that the most antiseptic images are often the creepiest?
(3) A few more incidental echoes — Joan Iyiola's Mercutian white wig and black mini-skirt, and Kirsty Bushell's fallen angel: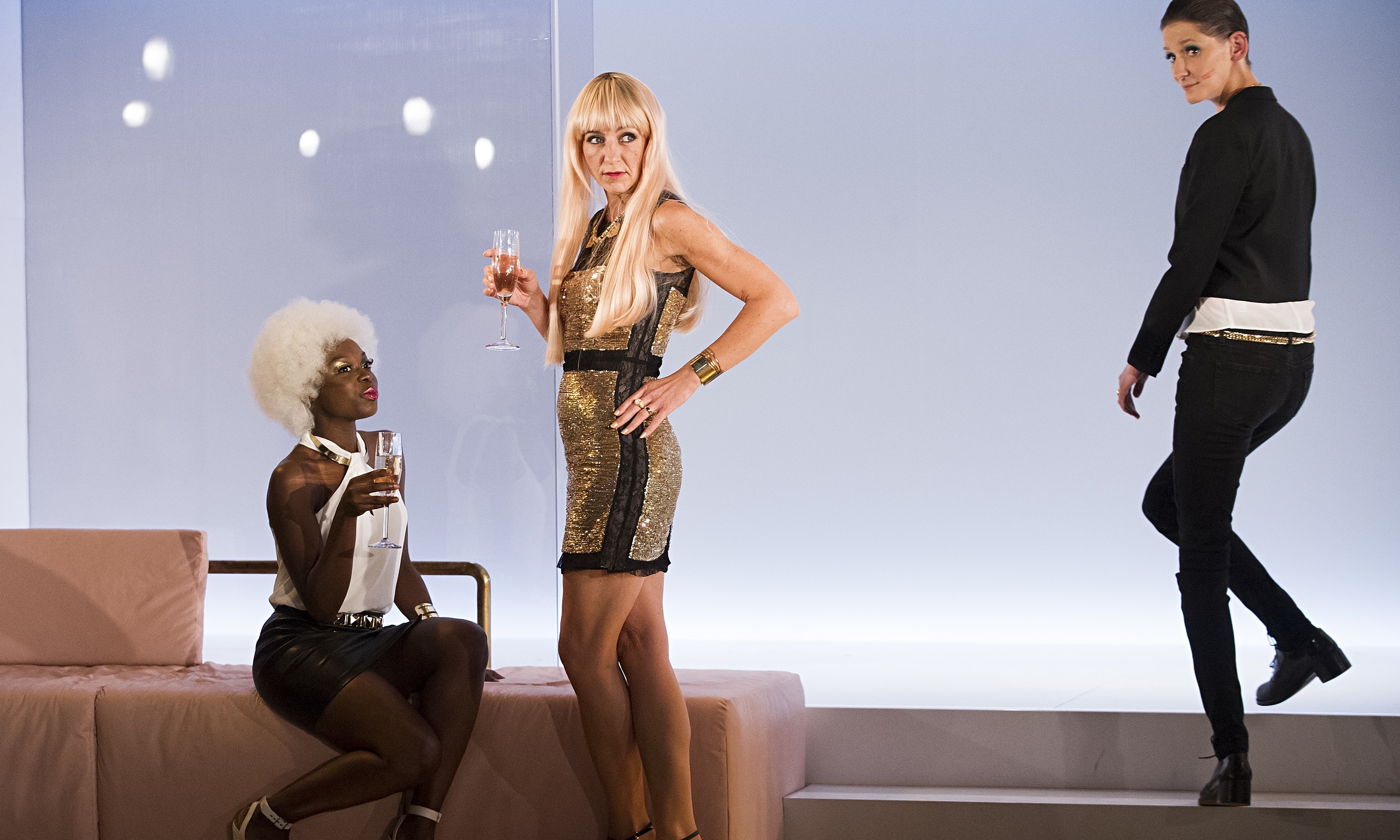 (4) Cornelia as a slightly WASP-ier Carmela:
And finally, the necromancer and other thugs (no pictures, alas) as less Romantic versions of Furio, The Sopranos' most gentlemanly assasin:

All in all, BRILLIANT. Seriously, go see it. (And really SEE it.)