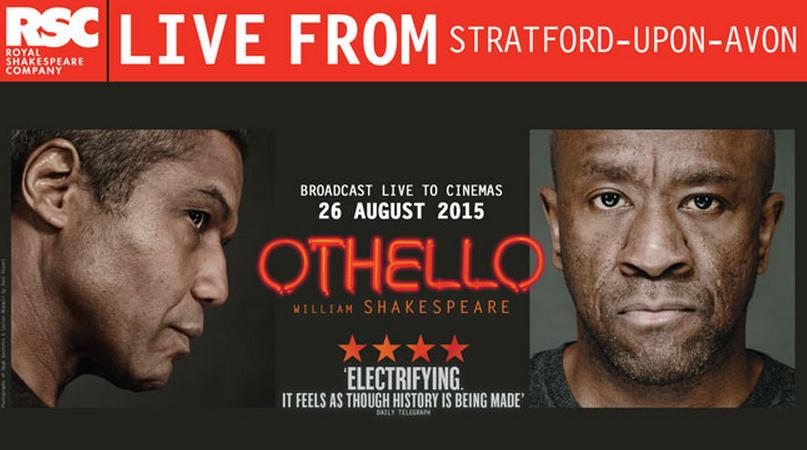 Some thoughts on the RSC's Othello, which I was able to see on both stage and screen this summer. In each case I caught the production at an extreme end of its run, seeing it live on stage in its early weeks (still officially in previews, I think), and live in the cinema the night before it closed. It's worth mentioning then that some of the observations below might have as much to do with how a production evolves over time as to how it changes across media. But caveats aside, I'd like to start with a few of the ideas that stuck out for me after seeing the production in June, and then turn to the further thoughts I had after seeing it at the end of August at the Stratford-upon-Avon Picturehouse.
This production deals with race in a more interesting, complex, and meaningful way that most. It's not just that it features a black Iago — though that of course is important. Out of a cast of 18, I counted at least 6 actors of color, a major institutional achievement in its own right (same goes for the director Iqbal Khan, and for the 6 female actors). In this far more diverse company than is typically seen on big national stages, Othello becomes not a lone black man in a sea of whiteness, but one citizen among many in a racially and culturally heterogeneous, cosmopolitan world. This doesn't mean that issues of race disappear — far from it. Instead, it challenges us to think about how racial dynamics work when they can't be reduced to easy binaries (black/white). It's no mistake, I think, that the production's most racially charged scene doesn't actually focus on Othello, but rather is the party in Cyprus, where what seems like harmonious celebration soon descends into aggression and social conflict.
The women are really good. And I don't mean this as faint praise, particularly when it comes to Desdemona. She is so easily an utterly naive, docile, submissive, and subservient wife — how can this be avoided in performance and her character made into someone modern audiences can feel more than perfunctory pity for? Joanna Vanderham's Desdemona is lively, impetuous, child-like, and perhaps even childish. She is naive, but with a palpably fierce sense of loyalty and justice. She's not okay with what's going on with Othello, she just really doesn't get it until the end. Emilia on the other hand tends to give actors more to get stuck into, and Ayesha Dharker brings out the complexity and subtlety in her part. One of the many strengths of her portrayal is the vulnerability she brings to the role; Emilia can easily become the cynical, worldly wise counterpart to Desdemona's foolish waif, but here she is also complicated by her own insecurities and shaped by a moving tenderness.
There are not enough words in the entire Shakespearean canon to describe the epic performance by Ayesha Dharker in the #RSCOthello @TheRSC

— CFP (@CFPeel) August 26, 2015

Othello is not blameless before Iago gets to him, and military life is certainly not noble. The most obvious way we understand this is through the extra-textual torture scene inserted after the party scene and before Desdemona starts her ill-fated attempts to get Cassio re-instated in his post. To be a part of military culture, this production suggests, is to be a part of brutal and even inhumane campaigns against other countries, cultures, and their people. And if we might be tempted to think that Othello is merely the distant manager of a rouge troop, we are soon corrected by his own swift and decisive turn to torture when Iago starts suggesting to him that Desdemona is not all that she seems.
Hugh Quarshie's performance as Othello is muted and even under-powered. There is a still core at the centre of Quarshie's Othello that makes him imposing, compelling, but also at times inscrutable. His is a quiet and contained Othello, obviously enraged by his situation (or so the torture of Iago would suggest) but also strangely affectless. No wonder Desdemona is confused. For me this got worse as the production went on, and made the second half particularly difficult to grasp. The final scene was among the flattest I've seen, with Othello's 'It is the cause, my soul' speech unfolding a bit too much like a to-do list. Though other exchanges in the scene did suggest more passion and conviction, they never grew into something greater, and the end effect for me was a disappointing woodenness. Over the course of his career, Quarshie has been famously outspoken about how the typical understanding of Othello's emotional journey is an inherently racist one. But re-reading that journey caused its own problems in terms of clarity and power of character, leaving me underwhelmed as I left the theatre.
So, with all this in mind, what did I notice, rethink, or experience differently on a second viewing, this time from my seat in the cinema?
First, and most importantly, the camera finds nuance where the stage does not. Quarshie's Othello was still oddly contained when viewed through the camera lens, but certain choices about his character's emotional arc did become clearer. What I saw in his Othello this go round was an ample dose of Hamlet — his lurching from stillness to rage and back again looked more cerebral deliberation and manipulation than wooden inscrutability. When he slapped Desdemona, calling her 'that cunning whore of Venice / That married Othello', I was surprised to find myself thinking of Hamlet and Ophelia's nunnery scene. Disgust and righteousness were the top notes, hurt and loss the undertones; misogyny and misanthropy were present in equal measure. In the final scene, no nervous chuckles could be heard, and the focus of the camera helped intensify and structure the dialogue that I had previously found flat and strained. To my surprise, the lines that popped out for me more than ever before were Othello's comments on the handkerchief, and the difference between murder and sacrifice:
By heaven, I saw my handkerchief in's hand.
O perjured woman! thou dost stone my heart,
And makest me call what I intend to do
A murder, which I thought a sacrifice:
I saw the handkerchief.
What he's talking about here is emotion, and the way it colours his actions — something I only realize now from reading Frederika Bain's chapter on affect and execution in the collection on emotion that Richard Meek and I brought out this year. In it Frederika shows how executions were supposed to be accompanied by minimal to no affect — these killings are just and deserved, and so they are governed by reason rather than passion. Murders, on the other hand, were marked by their lack of emotional restraint, with the unbridled feeling that accompanied them actually serving as a sign of their criminality. This is of course a historical approach to the issue, but it struck me as strangely appropriate in thinking about Quarshie's performance. Containing emotion becomes a way of consolidating Othello's political, social, and intellectual power; he is not a gull, or passion's slave, but rather a deliberate and righteous judge. The problem that remained for me, however, is that I don't believe that reason and passion are opposing forces, and I don't think Shakespeare did either. While the camera helped me find nuance in Quarshie's performance, I still felt that by denying Othello fuller emotional expression he also denied him his full power and complexity.
Second, the camera can make assertions in places where the stage simply suggests. There are several examples I could talk about here, but let's just go with two. In the staged version, the added torture scene doesn't directly involve Othello, but he is certainly implicated: first and foremost by being the leader of these men, second by shuffling around the edges of the stage while the scene is going on, and third by initiating torture himself in a later scene. In the filmed version, his complicity and command are made much clearer — at the end of the sequence we get a framed shot of Othello looking through papers in a file (the tortured prisoner's?), a choice that specifically directs the political force and affective discomfort of this interpolated scene towards this one man. Likewise, at the very end of the production, we close with a final shot of Iago, down on his knees, laughing diabolically as the lights go out. His laughter continues to reverberate in the darkness until the lights come up and the applause begins. I have no memory of this choice from the night I saw it on stage, which makes me wonder if it simply wasn't part of the production at that early stage. But even if that is the case, its importance is deliberately underscored here, as is Othello's participation in a kind of warfare that is far from dolce et decorum.
Finally, I really like those floating crane shots. Basically, every time they appear in the film, there's a comment in my notebook saying something like 'really nice shot!', or 'beautifully filmed!'. Even when this is the torture scene, or Othello manhandling Emilia, or indeed the Willow song. Give me a sustained wide shot, and I'm happy. Add some visual wonder to it, and I'm positively elated. Like the stadium shot in sports, these views let me see what's going on and anticipate action before it actually occurs. But having read Barker's book this summer, I'm also aware of the fact that not everyone feels this way. Am I over-prizing the long shot, and the kind of perspective it allows? How many different ways are there to see, and feel, a play?