Earlier this week I posted a piece about three recent digital Shakespeare anniversaries — the 6-month anniversary of this blog, the 5-year anniversary of NTLive, and the 1-year anniversary of the RSC and Google+'s A Midsummer Night's Dreaming. Today I want to follow that up with some discussion of the recent re-launch of the digital arts site TheSpace.org, and the possible new avenues it may open up for online creativity and performance.
Originally developed as a pop-up site for the digital side of the 2012 Cultural Olympiad, The Space returned last week as a new and more permanent gallery for the digital arts in the UK. While the old Space included a wide range of digital offerings, including the free streaming of recordings of 37  Globe to Globe Shakespeare productions, we are told that the new Space will leave broadcasting initiatives to BBC Arts Online and will instead turn its focus to more radical engagements with creative form. That means content that is more like Midsummer Night's Dreaming and less like Globe to Globe streaming, as demonstrated by the kind of work generated by the #hackthespace all-night opening event at the Tate Modern last weekend.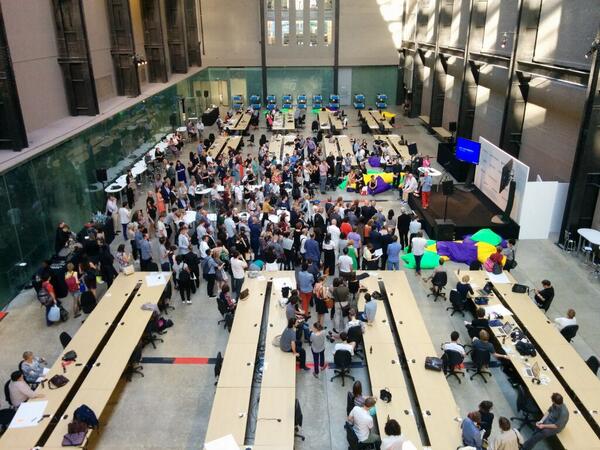 While the new version of the site is still young and content is in the process of being developed, there are a few initial offerings that caught my eye. The most high-profile piece featured in the new Space was an iPad drawing from David Hockney of a lily against a mauve background. I say was because in the process of writing this post I realized that the lily, titled '1062', has been taken down, and all the links to the Telegraph coverage of it are now mysteriously broken (to be fair, The Space responded to my tweet below saying that the Hockney was a a special and time-limited offering just for the launch). At the moment the drawing can still be seen in this Channel 4 story about the new Space, about halfway down the page. A couple of things about the work really interest me — first, the title, which to some extent highlights the potentially mechanized status of digital art (especially considering the fact that Hockney, unlike some artists, doesn't tend to use numerical titles for his paintings), and second, the fact that the 'drawing' is actually an animation that allows you to watch the composition of the flower from start to finish. For me the work was much more interesting for the insight it gave into Hockney's process, and I'd be interested to know if the 2-minutes' worth of animation was in real-time or sped up. How long does it take to create a piece of digital art?
Video element of new Hockney work best part I think. http://t.co/vJF0J4G8pF #hackthespace

— Erin Sullivan (@_erinsullivan_) June 14, 2014
Would be interested to know if #Hockney usually titles his digital art numerically, and if so why. http://t.co/vJF0J4G8pF #hackthespace

— Erin Sullivan (@_erinsullivan_) June 14, 2014
Just writing a blog about #hackthespace and digital art and see that the #Hockney has been taken down from @thespacearts. What happened? — Erin Sullivan (@_erinsullivan_) June 17, 2014
Leaving the question of the disappearing Hockney aside, the other work on the new Space that most interests me is a theatre piece called Longitude. Written by Tim Wright, one of the creatives behind the RSC's 2010 digital experiment, Such Tweet Sorrow, Longitude uses Google Hangouts (as did Midsummer Night's Dreaming) to broadcast three 20-minute episodes of a new play about global climate change and water shortage. It's fashioned as a thriller, set in a near future that sees ocean levels rising, weather patterns intensifying, and clean water disappearing. The action connects actors in Lagos, Barcelona, and London, roughly all on the same longitude line, as they communicate with each other about a dodgy water deal that seems destined to go wrong. There's still one more episode to go on 23 June at 6pm GMT, with a Q&A to follow, and episodes 1 and 2 can be watched online in the meantime (see ep. 1 below).
I'll be interested to know more about the logistics of the performance, specifically how the live action and broadcasting is coordinated, since I had initially assumed it was pre-recorded based on cued technical break-ups in some of the video conferencing that were part of the dramatic action. With Auslander fresh in my mind I'm also interested in how the production's liveness, a feature emphasized in its promotion on Twitter and The Space, might contribute to its status as theatre rather than television, film, or something altogether new. In any case it's a really interesting example of possible new directions for digital performance, and the fact that it's also partly commissioned by LIFT (the London International Festival of Theatre) points towards a growing and more widespread interest in what the digital, in all its infinite variety, may have to offer the performing arts today.
So lots to celebrate, I'd say, and much to look forward to. While I think that it's right that we question the remit and scope of the so-called 'digital', and that we push ourselves to define how we're using it in different contexts (a point discussed in part 1 of this post), I also think it's important to allow it space to range somewhat wildly across form and platform, and to see what happens. By 'what happens' I mean not only what creative artists and producers come up with, but also how audiences of all different  digital competencies engage with and use it. And it looks like we'll have more opportunity for this in the near future — just yesterday The Space announced a competition for £20,000 of seed money for the UK company that submits the most promising proposal for a new work of digital theatre. So stay tuned.